Free Lotto Games Contests and Sweepstakes
Most free lottery games, contests and sweepstakes have invested in wonderful flashing banners few click on anymore. They are displayed here for your enjoyment in case you were wondering what they look like.
Reasonable care is advised in selecting the free lottery games, contests and sweepstakes you play and the sponsors' offers. Don't sign up for things you're not interested in just to be nice. Don't play for prizes you don't want to win. Switch from games you find difficult to work with, play the ones you enjoy with prizes you want to win. Good luck!
---

DRIVE A FREE CAR : Your Only Cost is the Gasoline & Insurance!

Turn on your pop-up killer first, you're gonna need it.

Lizard-Free Lotto - You don't have to Pay to Play!
---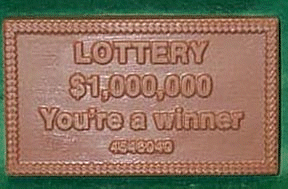 ---
Questions, comments, or suggestions? Send us feedback
Home, Articles, Information, Free Casinos, Games, Results, RNG,
Software, Wheeling, Wheeling Resources
© COPYRIGHT 1999-02 Lotto-Logix Lottery Resources